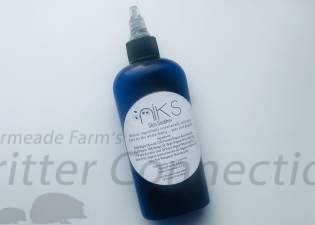 NIKS Organic Original - Skin Oil
Niks Skin Oil was formulated especially for Critter Connection as a natural and safe dry skin treatment for both humans and hedgehogs on the farm.
This oil contains Extra Virgin Olive Oil,

Virgin Pumpkin Seed Oil, Organic Aloe Vera Oil, Organic Apricot Oil, Organic Calendula Oil, Orgainic Angustifolia Lavender Essential Oil, Orgainic Rosemary Essential Oil, Organic Vitamin E Oil.
Each ingredient individually has properties that are naturally healing to the skin.

Rosemary and Lavender have the added bonus of being favored scents of hedgehogs and they are natural mite (and lice) deterrents.