Hello and thank you for your interest in participating in the Pedigree Resource!
Purpose
The purpose of the resource is to put it simply – be a resource of pedigrees that are verified by breeders to be as accurate as possible. The goal is to help breeders keep true and accurate information. There are no political ties associated with this resource. It is purely informational related to pedigrees only.
At this time it is completely FREE to have your herd and animals associated with your herd initials included in Pedigree Resource
Breeder Perks
A few of the breeder benefits include:

You will always have a backup of your pedigrees. Our server and database is backed up on multiple levels.
You can request a .csv file export of animals associated with your herd initials at any time. This export can be uploaded to many different types of pedigree programs.
Print pedigrees of animals in the Pedigree Resource at any time.
Participating and active breeders will have a Premium listing in the Herd Initials listing. Breeders that do not wish to participate will be indicated as such so that they are not repeatedly contacted for verification purposes.
Future features include breeder searches by state and breeders can register offspring of animals already included in the Pedigree Resource.
The Star System
The Star System is a way or recognizing the level of pedigree verification. An animal will receive a star for each fully verified generation. For an animal to receive one star, both parents must be identified and a date of birth for that animal. A second star is awarded when all four grandparents are verified. A star is not awarded for that generation if any of the grandparents are not verified. The third star is awarded to the animal when all eight great-grandparents area awarded and so on.
The Star System does not indicate the breeding quality, health, or temperament of the animal. Breeders who choose not to participate are simply non-participating and breeders that participate are simply participating. Quality animals come from non-participating breeders and vice-versa. However, the Star System does provide a resource to assist those who place a priority of true and accurate pedigrees as a part of their breeding program practices.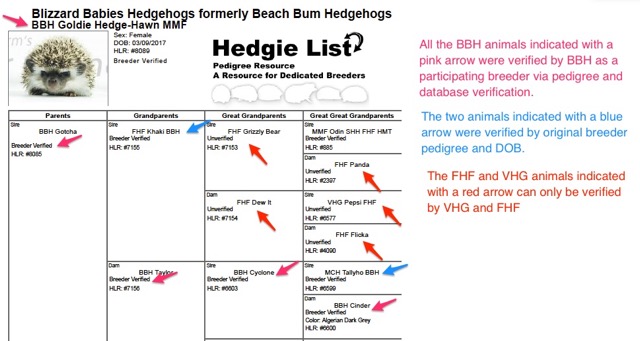 How to Participate
Since this is a FREE service at this time please be considerate of the data entry people. There WILL be mistakes and you will be responsible to for data entry verification when the process is complete.
Step 1
Print hard copies of all the animals in your herd at the time you are submitting information. Animals are entered in order in which they are received. It does not matter if you send 5, 10, 15, or 100, herds will be entered in order in which they are received. Please send your entire herd pedigrees at once as a courtesy to us and to help the process flow smoothly. Remember, the only information used is what is visible on the pedigree. The number of animals you submit for entry is not important but entering the herd in its entirety (both breeding and non-breeding) is very important.
Step 2
Using the following pedigree of RCH Isara BPH as an example.
If RCH is submitting this pedigree, RCH would include the information at the top as well as the date of birth (DOB) of the animals related to RCH. This is a fast and simple way to verify additional herd animals without a printed pedigree.
If BPH is submitting this pedigree but had already provided pedigrees for the BPH related animals, only the pedigree for RCH Isara BPH is needed.
Step 3
Mail hard copies of the pedigrees to:
Critter Connection
909 South Platt Street
Montpelier, OH 43543
Please included the following information:

Name
Herd Name
Herd Initials
City, State*
Phone Number *
Email*
Website/Facebook*
USDA # /Hobby Breeder
Year Started in Hedgehogs*
* Indicates Optional Information
Step 4 - Optional
Email a back up copy of your pedigree database to gail @ critterconnection.cc Almost all pedigree programs have an export or backup feature. This is important for two reasons.
1. Information can be quickly and easily verified as pedigrees are entered into the system. This cuts down on guessing of spellings when the font decreases in size. It also allows us to verify other animals in your herd already in the system quickly and easily.
2. You have an additional back up of your pedigree program in the event of a computer crash or lost data.
*** Again, this information is purely confidential and is only used for pedigree verification purposes. The information provided will not be copied or shared without a request initiated by the person who initially provided the information to Pedigree Resource.
Step 5
Once your information is received it will be entered into Pedigree Resource in order of which it is received.
IMPORTANT: For the sake of consistency and flow the following herd initials are being replaced with UNK unless a specific person's name is provided. The origin of animals with the following herd initials is unknown unless a name is provided.

PET (Pet)
PST (Pet Store)
AUC (Auction)
SPB (Small Private Breeder)
SPP (Single/Small Private Person)
In the example of the pedigree RCH Isara BPH, only PNP can provide the breeder information of UNK Sonic PNP.
Step 6
As animals are entered into Pedigree Resource we will make every effort to indicate mistakes or missing information directly on the pedigrees. Once all the animals in your herd are entered we will scan and email copies of the pedigrees you sent us. You will also receive a .csv report (can be opened in Excel or Numbers) spreadsheet of all animals in Pedigree Resource related to your herd initials.
Final Step
Please review the information you receive back from Pedigree Resource and let us know if there are any corrections.
Thank you!
Gail